Support our troops!!!
Landy (Landis George) was born, June 21, 1919, in the small town of Oconto, in Northeast Wisconsin to George and Laura (Spice) Schaetz. The youngest of five children and the only boy. His sisters, Iva, Erma, Diane and Grace all preceded him. Landy's father, George, was a lumberjack and a carpenter by trade, working for the Oconto Lumber Company. George and Laura eventually took over the farm and dance hall when the elderly Spices moved into the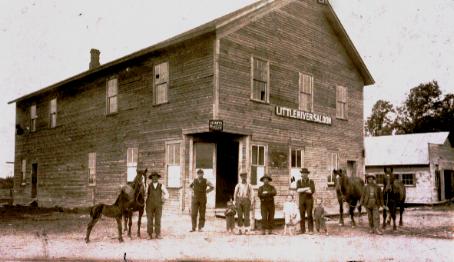 City of Oconto. Landy's sisters, Grace and Diane, would sing in the dance hall as children. George later was the foreman of the crew who built the United States Post Office in Oconto, which stands today. His mother, Laura, worked at the Bond Pickle factory, where many people from Oconto once worked. Laura (Spice) was the youngest daughter of Robert Alexander Spice, a member of the "Oconto River Drivers" a Infantry regiment, who saw action at "Bull Run" in the Civil War and grand daughter of Thomas Spice who also served in the Civil War. Thomas received a disability discharge after being shot at the Battle of Stone River, Murfreesboro, Tennessee.
When Landy was about five, his parents packed up and moved south to Milwaukee where Landy and his sisters grew up during the great depression. One of Landy's early memories was selling newspapers after the end of prohibition (Dec. 5, 1933) at the age of 14, standing on a corner, shouting "Extra, extra....read all about it."
When Landy turned 17 he and a friend, spent the summer picking cherries in northern Wisconsin, before embarking on his first real adventure. The two friends bought a 1928 Dodge and headed west to the Golden State. Upon arriving in northern California they picked grapes. The money was poor and the work was hard. After a couple of months traveling the state, Landy decided he was home sick for Wisconsin....there was only one problem, their car had broken down and they were broke. Landy did what any home sick hobo would do, he rode the rails, jumping freight trains back to Milwaukee, going eight days without food.
Landy got a job as a carpenter, working for Georgie Schaetz (his father's cousin) for $1.10 an hour. One of Landy's most vivid memories was in the winter of 1938. With temperatures far below zero for three straight days there was no work, which to most people meant no money. When the weather broke Georgie called Landy and told him to report to work. When Landy arrived he received $26.40 for the 3 days that he missed due to the cold. Landy's loyalty to Georgie was solidified at that moment.
Landy's free time was spent working on the pit crew ("stooging") for the great Wally Zale's midget racing team and roller skating at the Pallomar Roller Rink, on South 27th Street in Milwaukee. Landy was bitten by the "racing bug" in the late 1930's when midget racing was just getting started. His idol was the colorful and daring Wally Zale, one of the greatest midget drivers of all time. Landy stogged for Zale in hopes of one day following in his foot-steps. He's also pestered Zale for the oportunity to drive one of his midgets. It was Zale who convinced Landy to change his last name from Schaetz to Scott, telling him that he needed a name that was easy for the fans to remember. One day in the shop, Landy asked Zale what name he should choose for his racing career. Zale thought about it for awhile, then shouted to another mechanic: "Hey, what's the name of that old engine back in the shop?" The mechanic replied, "You mean that old Scott Atwater?" Zale replied, yes, turn to Landy and said, "That's it, Landy Scott." Much to the chagrin of Landy's dad, the name stuck and Landy eventually legally changed his surname to Scott.
It was while roller skating at the Pallomar that Landy met Dorothy whom he would eventually marry. But marriage would have to wait, as would Landy's dream of driving a race car. The Japanese had other plans and on December 7th, 1941, they attacked of Pearl Harbor. Months later, Landy was a soldier in the United States Army Air Corps. Landy, spent his first Christmas away from home at basic training in St. Petersburg, Florida.
Landy was then shipped to Kerns, Utah pending his next assignment. When he went into town for a meal, he was puzzled when he couldn't get the waiters attention. Then a man seated next to him asked if he wanted him to order for him as he pointed to a sign behind the counter...."Soliders and Dogs, not Allowed"...welcome to the Army son.
On New Years Eve 1943 Landy found himself in Clovis, New Mexico where one hell of a party was taking place. Landy thought this would be a fun town. A few days later when he got a pass to go into town, he found out the reason for the party was more than a New Years celebration. The town of Clovis had voted the county dry....prohibition was back, and the party on New Years Eve was the last day alcohol would be sold. I wonder if Landy was thinking back to 1933 and his days of selling newspapers in Milwaukee at the end of prohibition??? Extra, extra.....
Landy was in the Army Air Corps, but his thoughts were back home, missing Dorothy, and on his first opportunity he took a train back (he bought a ticket this time) and proposed. Landy and Dorothy were married on June 2, 1943 in Denver, Colorado. Landy and Dorothy would have six children; Michael, Lannis (Sue), Thomas, Daniel, Gary and Sharon. Landy has eleven grand children and twelve great-grand children.
Landy's racing career would have to wait until his honorable discharge in August 1945.
For additional photos and to read more about
Robert Alexander Spice and
the "Oconto River Drivers",
click here
.
Click on Photos
to enlarge: